INCOME SEEKER CORE-4 PORTFOLIO
The Income Seeker Core-4 Portfolio gives investors greater income than any other Core-4 portfolio. This is accomplished by substituting high yield U.S. and international stock funds for total stock market index funds. On the fixed income side, A U.S. investment grade corporate bonds replace the total bond market thus eliminating government bond exposure. Preferred stocks are also included to enhance overall yield.
Here are the four categories of investment in the Income Seeker Core-4 Portfolio. 
High Dividend Yield US Stocks
High Dividend Yield Total International Stocks

 

US Investment-grade Corporate Bonds
US Preferred Stocks
The Income Seeker Core-4 Portfolio strives to generate about 50% more cash-flow of other Core-4 portfolios of comparable risk. The US stock portion is represented by a broadly diversified high-dividend paying fund of US domiciled companies. The US. Developed countries and emerging markets are also represented using a high dividend paying international stock fund. The US bond portion includes only investment-grade corporate bonds that provide higher interest income than government bonds. The bond portfolio is widely diversified across industry groups and maturities. 
Preferred stocks are also included. This oft forgotten asset class sits between stocks and bonds on the balance sheet and earns a higher yield than either the common stocks and corporate debt. However, a company may discontinue paying a dividend if their cash-flow is too low for distributions. In that scenario, the dividend to the common stock shareholders would end first or simultaneously.  
MODERATE GROWTH INCOME SEEKER CORE-4 PORTFOLIO
The Moderate Growth Income Seeker portfolio has an allocation of 60% in equity and 40% in fixed income.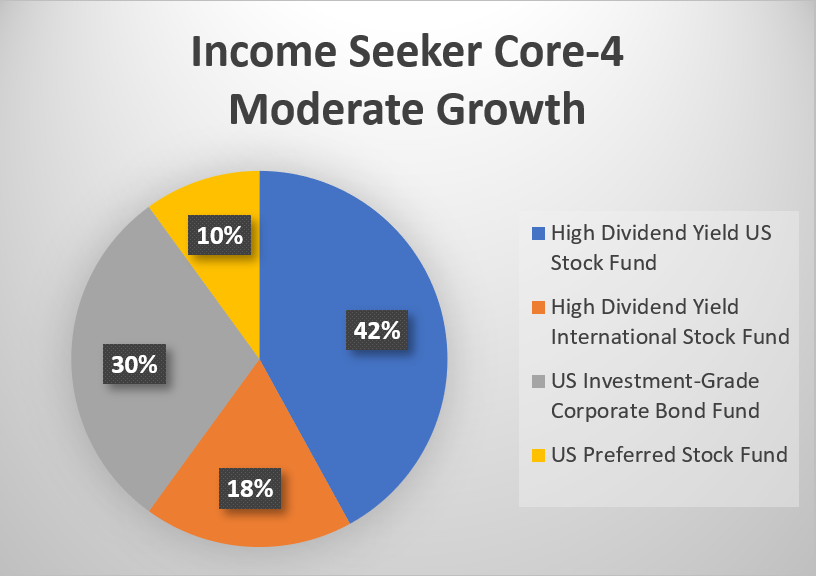 ASSET ALLOCATION SELECTION
CLICK HERE to view the asset allocation of four Income Seeker Core-4 Portfolios ranging from Low-risk to Aggressive. More risk in a portfolio means greater short-term volatility and the expectation of higher long-term returns.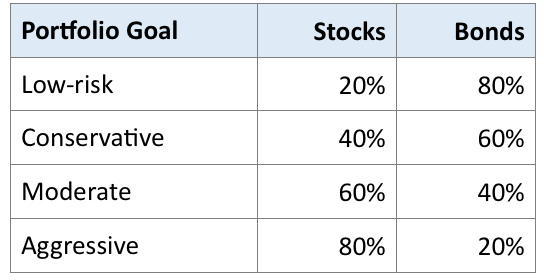 For assistance in selecting an appropriate risk level, use the Vanguard Risk Tolerance-Asset Allocation Tool or a similar questionnaire designed to recommend a stock and bond allocation. 
FUND SELECTION
CLICK HERE to see suggested mutual funds and exchange-traded funds (ETFs) for each category in the Income Seeker Core-4. The fund selection includes the largest in each asset class and three others that are appropriate. The list does not represent the complete universe of suitable funds.
ANALYZE YOUR SECTIONS IN PORTFOLIO VISUALIZER
Here is a PORTFOLIO VISUALIZER analysis for the Income Seeker Core-4 Moderate Growth portfolio using funds from the Inflation Fighter Core-4 FUND SELECTION page.
You can change funds by typing in different tickers or fund names from the FUND SELECTION page or your own selections. You can also change the portfolio allocation to each fund by typing in the percentages in each asset class based on the Income Seeker Core-4 PORTFOLIO ALLOCATION page or using your own revised allocations. Simply enter the funds you choose and an asset allocation to each to make your analysis. Compare up to three portfolios at once.
The Portfolio Visualizer online portfolio backtesting tool allows you to construct one or more portfolios based on the selected mutual funds, ETFs and stocks to analyze and backtest portfolio returns, risk characteristics, standard deviation, annual returns and rolling returns. The results include a visualization of the portfolio growth chart and rolling returns, CAGR, standard deviation, Sharpe ratio, Sortino ratio, annual returns and inflation adjusted returns. A periodic contribution or withdrawal can also be specified together with the preferred portfolio rebalancing strategy.
GETTING HELP*
Core-4 Adviser Alliance members assist individuals and small institutional investors with all aspects of investment planning, portfolio design and account management. They also provide valuable content to the Core-4 Blog. All advisers must meet strict fiduciary standards. All advisers charge a fee for their services, which vary by firm.
*Core-4 Investing charges a fee to companies that advertise on this website. The blogs and other content provided by advertisers may facilitate their commercial purpose. Neither Core-4 Investing nor its owner guarantees the advice of any service provider; however, we do want to hear about positive and negative experiences.